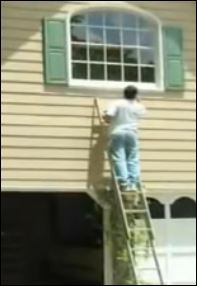 Here is a suggestion:
Call three contractors and get three quotes. 
You will most likely get three different numbers from each contractor and  usually they will be worlds apart in price. You should always be leery of the lowest price.  It is usually a red flag, ask if they are insured and licensed.  Most importantly, ask to see proof.  Usually the lowest bidder is neither Licensed nor Insured.
This is a risk no homeowner should ever take when it comes to having people on their property, especially if they are using ladders, tools, paints and spray equipment. 
As the old saying goes, "You get what you pay for", which in this case could not be any truer.  In fact chances are, you will be calling one of the other two Painters in the near future, to clean up their work.
–When a Contractor comes in and offers  you a list of references along with copies of their Insurance documents and a copy of their License, this should ease your mind a little and realize they have nothing to hide.
Ask questions:
 How long will it take?
 How many workers will be there?
Do you make daily check up visits if you are not on the job?
When can you start?
What type of preparation will you do?
Will primer be used?
Are you Lead certified?
Do you offer Green Products?
Do you do daily clean-ups?
Exterior jobs, how will you cover my shrubbery?
Interior jobs, how will you cover my floors?
These are just some questions a homeowner has every right to ask
 Also, it is important to note whether the contractor was courteous and business-like, punctual with appointments or in returning phone calls, quality-oriented, experienced, and generally interested in doing business with you.
Share